Tickets to the incredible Cirque du Soleil show that features the iconic storyline and music of the Beatles are now up to 45% off.
"The Beatles LOVE," according to Variety magazine, "delivers the goods in the manner of the best Vegas shows." Discounted tickets are available for shows Thursday-Monday through Aug. 31 in the following seating sections at The Mirage Hotel and Casino:
Price Level D … $55 (reg. $104)
Price Level C … $80 (reg. $130)
Price Level B … $105 (reg. $155)
Note: Pricing on the website will appear with a 10% Live Entertainment Tax added in on both the full and discounted prices.
About the show: "The Beatles LOVE" is a celebration of the musical legacy of the Beatles. Through the band's timeless, original recordings, "LOVE" channels the exuberance of the Beatles with the youthful, urban energy of a cast of 60 international artists.
Click here to book online at The Mirage Hotel and Casino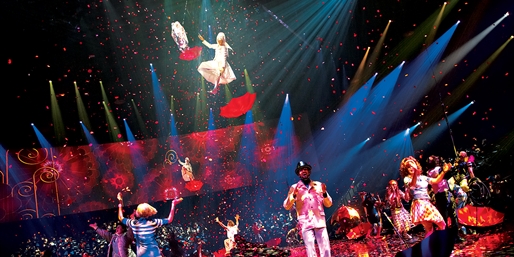 Info and image courtesy of TravelZoo.com